About
"Little Lamb, who made thee? …Little Lamb, I'll tell thee…Little Lamb, God bless thee!"
Little Lambs Preschool was established in 1996, as a ministry of Immanuel Lutheran Church in DeKalb, IL. The preschool was founded as a Christian Outreach to the church and the community; however, we proudly accept children of all religious backgrounds.
The name of our Christian preschool comes from a poem by William Blake titled, The Lamb. Without apology and unabashedly, Little Lambs Preschool is committed to echoing, imitating and role-modeling the Good Shepherd's own actions, welcoming little lambs and providing them with a nurturing Christian preschool education.
Philosophy
At Little Lambs Preschool, we feel that a quality education in a Christian setting is important for children in our community. We work in partnership with families to develop a solid foundation for our preschoolers. We focus on the child's social, emotional, physical, cognitive and spiritual development. The result is a well-rounded Christian preschool education that builds a foundation for lifelong development.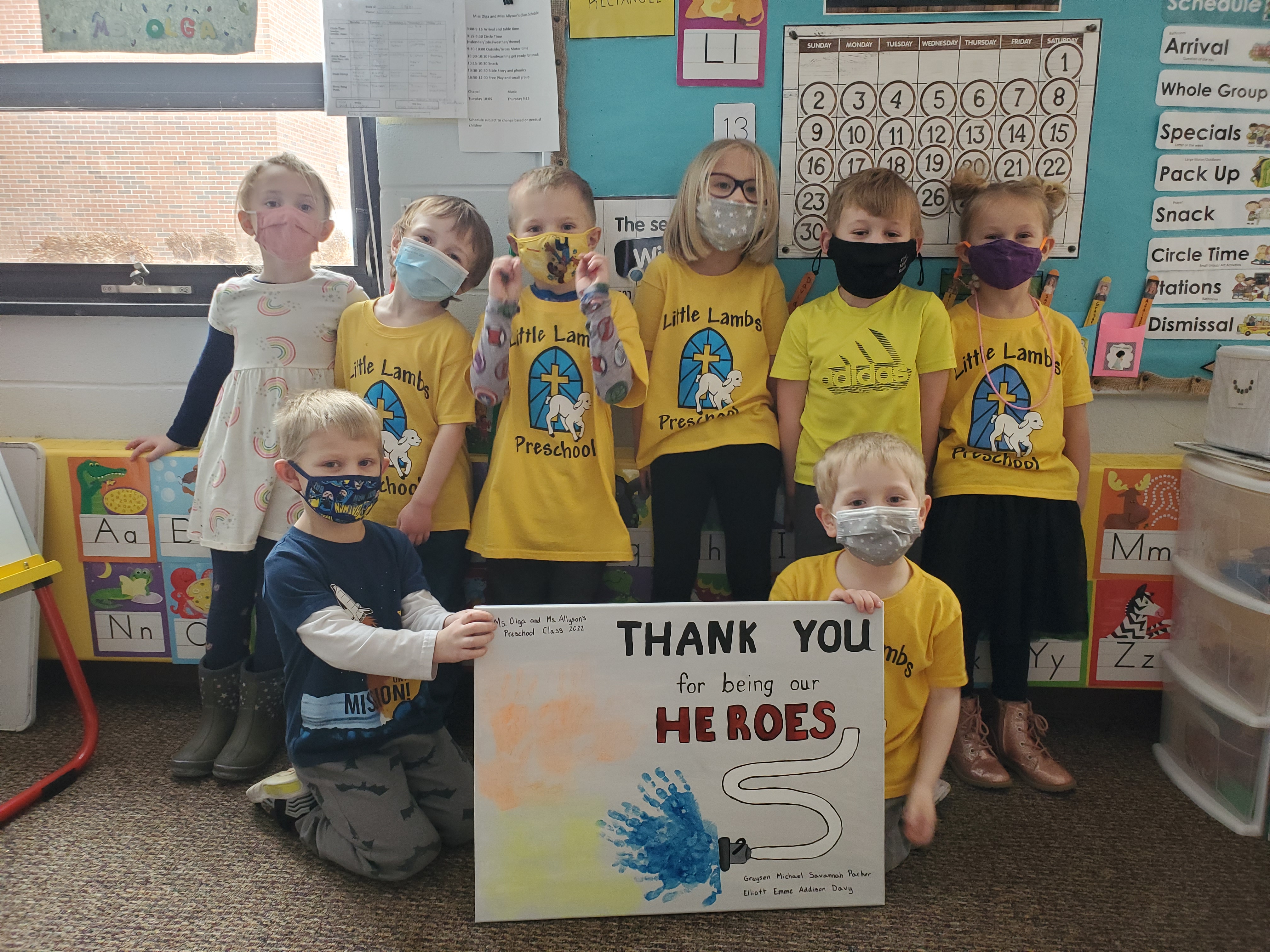 Our Mission
As a Christian preschool, our curriculum is rooted heavily in realizing the significant role God plays in our lives. As we help them explore the world around them and learn fundamentals, we also help the children in our care connect with guiding, governing spiritual concepts. Little Lambs Preschool seeks to help each child:
Have a personal relationship with God
Experience cognitive, social, emotional, physical and spiritual growth
Develop self-worth
Grow in social skills through group interaction
Increase self-expression through language skills
Learn to adjust to new situations
Increase attention span and the ability to follow simple directions
Develop independence and problem-solving skills
Grow in the ability to get along with children and adults
Develop fine and gross motor skills
Know Jesus as a friend and Savior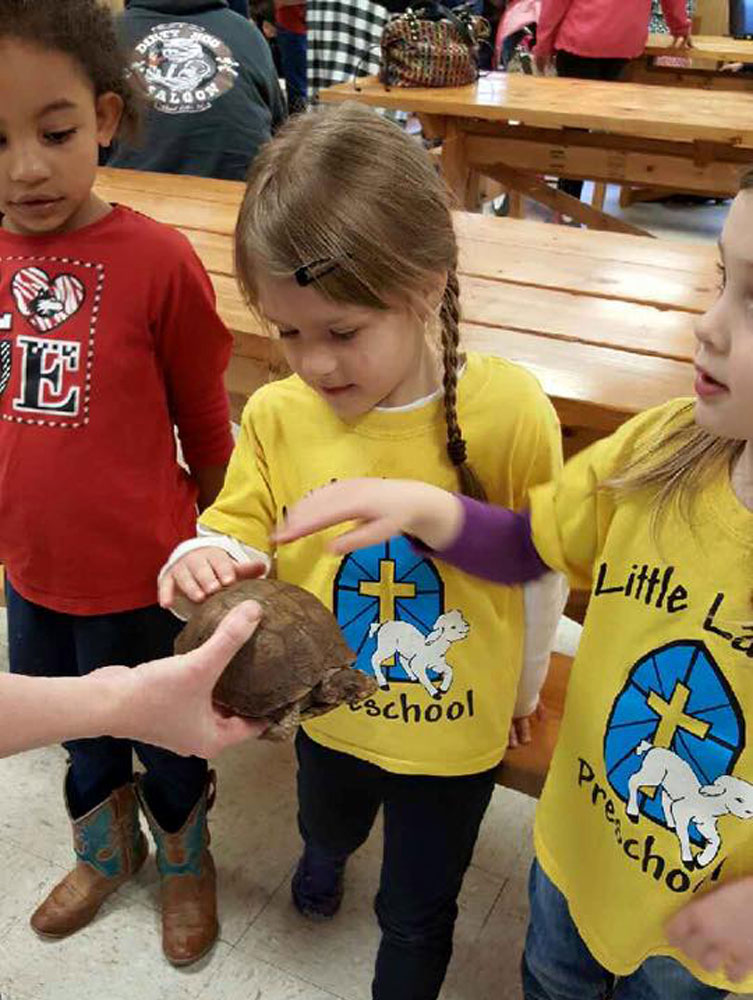 Note From The Director
Hello from Little Lambs!
Little Lambs Preschool has been very busy these last few weeks.
We had a great turn out for our annual Thanksgiving Feast. It was held right before we went on break. It was great to see the many dishes that were so lovingly prepared. Each class also made a dish for the feast. It is always great fun to be able to share this tradition with our families. Pastor Marty did chapel with everyone. The children always enjoy having our special guests join in their day.
In December the children will have their Christmas program on December 14th at 6:00 p.m. Miss Erin has been hard at work preparing for the program by teaching the children all the songs and how to use the musical instruments. After the program, the families are invited to go downstairs for a special birthday celebration for Jesus, which includes hot chocolate and snacks.
Little Lambs will have their annual visit from their "Shepherd on the Shelf." He makes his appearance on December 1st. The children will help guide him to the manger. We read his story and learn about the true meaning of Christmas. We will celebrate with our annual Birthday Party for Jesus before we head off for Christmas break. The children will play party games, and have birthday cake, and even go home with a goody bag that our shepherd will leave them after he finds baby Jesus.
Our Little Lambs will also go on an adventure on the Polar Express. We will be having pajama day and watch parts of the movie. The children always have a great time with this, and we look forward to having it be a day that we, as a school, can spend together. At the end of the day each child will go home with a silver bell like the one in the movie.
After Christmas break, we will gear up for our annual Lutheran Schools Week celebration. This year's theme is "Connected." We are currently making plans for this and will update you in our next newsletter about what we are doing.
The holidays are always a joyous time for us here at Little Lambs. We love to see the joy on the children's faces as they learn the true meaning of Christmas. Our hope for you and your family is that you too will find the joy and peace that comes from the baby in the manager, and to see the promise fulfilled from God, that He so truly loved us all to give us His one and only son.
In His Service,
Katie Martinez
Little Lambs Preschool Director
Staff at Immanuel & Little Lambs Preschool: (back row—left to right) Rev. Marty Marks administrative pastor; Katie Martinez, preschool director/teacher; Kate Decker, preschool aide; Kaylin Briscoe, preschool teacher; Alma Sanchez, office assistant; Craig Dybas, custodial/maintenance. (front row—left to right) Erin Grych, preschool music teacher; Michelle Mangini, custodial; Cara Leadingham, preschool aide; Sue Harms, preschool aide; Jessica Molitor, preschool teacher; Darlene Hillman, office manager
Welcoming Little Lambs
Little Lambs Preschool of Immanuel Lutheran Church welcomes children ages 3-5 years old in DeKalb, IL. We seek to provide a loving, safe, nurturing environment for each child, and a path to cognitive, social, emotional, physical and spiritual growth. For more information, please contact us today at 815-756-6669.
Contact Us Call Now